1. How does the writer introduce the reader to the concept of time travel as a realistic occurrence? Does she succeed?
I was very skeptical about this book, despite how many people recommended the novel to me. The idea of time traveling seemed weird; however, it seems completely plausable in this novel. Because the rules of time travel never change, that helps give it more of a realistic feeling. And because the time traveling isn't like a scientific advancement, but rather a medical condition, it also seems more realistic.
2. Henry's life is disrupted on multiple levels by spontaneous time travel. How does his career as a librarian offset his tumultuous disappearances? Why does that job appeal to Henry?
I think the job as a librarian is the perfect counter to his crazy life. In the novel, he never knows where he'll go or how dangerous it will be. So, as a librarian, his job is very quiet and orderly, which is also very different from his punk rock persona that he adopted as a 20-something.
3. Henry and Clare know each other for years before they fall in love as adults. How does Clare cope with the knowledge that at a young age she knows that Henry is the man she will eventually marry?
Since Henry won't tell her where they meet, it does lend a little mystery to their romance. She's already in love with him when she meets him at the library, but he doesn't know her. She doesn't date other men, so it concerns her friends, but she believes in Henry and what he's said so much that she forgoes some "normal" college experiences.
4. Do you think the ending of the novel is satisfactory?
I do. It made me cry, but it is really sweet.
Other Thoughts:
The novel talks about using atypical anti-psychotics (Haldol and Risperdol) to keep Henry from time traveling. My favorite part was that the novel does discuss the side effects, which includes dystonia. In the novel, Henry thinks the benefits would outweigh the risks, but if any doctor offers you Haldol, Risperdol, Seroquel, or Abilify, along with any other drug that has dystonia as a side effect, please watch a youtube video of someone suffering from dystonia before you take the medication. I know that when doctors offer you those medicines, they can seem really temping–sometimes they are the only option–but think about it. I was told that one of those would stop my Tourette's, which it didn't, plus my life has be unalterably changed/practically ruined. So be informed.
When I was 23, my body started shutting down. It became my own worst enemy. It didn't literally shut down, but I lost the ability to control my movements. Movement disorders are so scary. My neck became locked in place, which had the effect of bringing pain to the rest of my body. The tics in the other parts of my body wouldn't stop. My world collapsed as my health failed. Instead of growing into a strong, independent woman, I slowly rescinded back into a state of complete dependence on other people. When my body couldn't work all day, have fun, and allow for intellectual pursuits, I rebelled. I pushed myself to do the best I could at work, to accept every invitation to a party, and enroll in grad school. I was so young, yet my body was not in the same place that my mind was. My priorities were temporary and unimportant in hindsight, but they came at the expense of potentially damaging my life.
So, I moved closer to home after a year of being diagnosed and treated. Treatments were not enough to get my life back in order. When my dad came to visit my apartment, he said that it was like a DEA raided crackhouse. There are photographs – it was that bad. During college, I always prided myself I'm doing great work, keeping myself organized, and having a full social calendar. But by the time I left my first two years of work in DC, I was performing at a minimally adequate level, completely unable to care for myself, and was isolated. People always say that you just have to push through the pain. While that attitude might work for some people, most people with my condition can't push through the pain. The more you push the further backwards you go.
The cruel part of this disease is that my mind stayed intact. I know what I want to do. I know what I could do in the past. And I know what I won't be able to do in the future.
As usual, this post was inspired by a few song lyrics:
Ain't it funny how the simple things in life
Are the only things that really matter?
Your life is complicated, found your dreams are overrated
Now you're old and wanna go back
But you can't
You spent your life running away from your family
In your old age it's all that you're wanting
Being sick forced me to grow up a lot faster than I would have before. As I heard someone say recently, everyone has been hit by something. Some people have been hit by a tricycle, but other people have been hit by semi trucks. In the end, we are all dealing with something. We all have disappointments, longings that are unfulfilled, and aching hearts.
I feel like I got old, while I was young. I either had to completely reevaluate, rearrange, and create new priorities, or I was going to only get worse. My body needs a lot of sleep, gentle movement, and general care that is above and beyond the normal 26 year-old. Overall, it is simplifying my life – something that I am still working on – that is going to help me. It is hard, though, when my peers are excelling at their jobs, having children, and on the go more than me.
But, I also learned that family is what matters the most. Family is different for everyone, but for me family is my parents and my husband. And the pain can make it hard to maintain those relationships because pain can make me bitter and mean. I am also still working on this, but I know that I have to stop running away from family and stop running towards the overrated dreams. Of course I have goals that keep me motivated. But my goals at 26 look significantly different than they did when I graduated college at 22. I thought I could have it all. I could have the world. Maybe some people can, but for my quality of life, I had to realize that there were only a few things I needed and wanted. And I have to work hard at those things – finding pain management, taking care of myself, being humble enough to accept help, and enjoying the precious time that I have with my family. I have seen too many people lose their family members far too soon, recently. I don't want to regret anything at the end of my life. And I know that I won't ever regret putting my energy, which is also a precious resource, into the simple things in life that really matter. I will regret wasting my energy on the complicated, the messy, and the unfulfilling.
I am doing very poorly in my fall film challenge. I picked horrible films, really. And, I've just been so much more interested in reading recently. I mostly listen to audiobooks, but I still get through a lot. So, when I saw the Winter Reading Challenge, I knew that it would be perfect for me. This is just a preliminary list–it may change. I can't wait to get started on November 1! I already put some of the audiobooks on hold at the library, since they take awhile to get here!
5 points: Freebie! Read any book that fits the general rules. — The Masquerade, Georgette Heyer
10 points: Read a book written by an author who has published at least 10 books. — The Burning Room, Michael Connely
10 points: Read a book of short stories. — Everything that Rises Must Converge, Flannery O'Connor
10 points: Read a book with a food (not a drink!) in the title. — Still Life with Bread Crumbs, Anna Quindlen
15 points: Read the first book in a series that is new to you (so no rereads for this one!). — The Fall of Giants, Ken Follett
15 points: Read a book that was originally written in a language that is not your native language. — The Girl with the Dragon Tattoo
15 points: Read a book written by a local author (either an author from your state if you live in the United States, or in your country if you live somewhere else—note: author must be from where you currently live). — The Water is Wide, Pat Conroy
20 points: Read a "bookish book" (in which books play an important role, e.g. the setting involves a bookstore or library, a major character is an author, or a book that celebrates reading and books. — The Book Theif, Markus Zusak
20 points: Read a book with a direction in the title (e.g. north, south, east, west or any combination of those). — East of Eden, Steinbeck
25 points: Read a book from a genre you don't usually read. — The Blind Assassin (Sci-Fi), Margaret Atwood
25 points: Read a book with a song lyric in the title. Be sure to tell us the song name and artist as well! — The Girl You Left Behind by Jojo Moyes, "Girl You Left Behind," Pixie Lott
30 points: Read two books with a different meal in each title (e.g. breakfast, lunch, dinner, supper, brunch; update: meals like feast, banquet, picnic will also count, but try not to get too "creative" with your meal words!). – Breakfast of Champions, Vonnegut; TBD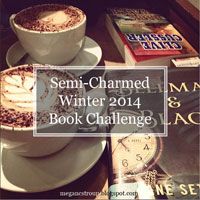 Do you remember when everyone was putting diet soda into their baked goods? I loved the theory, but those sprite cupcakes crumbled everywhere!
I decided, though, after seeing an article of combinations of sodas and boxed cakes to try a root beer float flavored cake. To my pleasant surprise, the cake didn't fall apart. However, I think the root beer was a little flat. So, when I decided to make a spiced cake, I added a little water, only to make the best cake ever! It takes under 2 minutes to put the cake together, so I always keep the ingredients on hand, in case I need to take a dessert somewhere the next day!
Ingredients:
1 Box of Spice Cake
12 oz of diet ginger ale
3 tablespoons of water
1 container of whipped cream cheese icing
Directions:
Combine the boxed cake mix, ginger ale, and water.
Bake the cake according to boxed directions
Ice the cake once the cake has cooled
Serve cold
1. After giving them a haircut at home: You are ugly, but I still love you.
2. After Rylie chewed a book: I knew for sure that you were adopted.
3. When they have "accidents" in the house: I am going to make you live outside forever.
4. When one dog whines for for a toy that I can't reach, either: I like your sister better.
5. Who pooped on the ottoman?
6. When Josie goes in my closet, looking for clothes she can run away with: Josie, come out of the closet! [this is daily.]
7. Quit licking each other's faces!
8. Stop growing, or I'll stop feeding you.
9. Get out of my way. My TV show is more important than you.
10. How are you still sleepy? You sleep 22 hours a day.
Do you say crazy things to your pets?

I am here to share my 5 favorite posts from this week! I loved even more, but I only have a little bit of time (and patience). The regularly scheduled Cervical Dystonia series is taking a break because… well, my dystonia prevented me from doing the researching and writing that I wanted to do this week.
On Making Time for the Things You Love (A Beautiful Exchange): I love this post because it is all about prioritization. I am such a time waster, so I set a lot of goals to motivate myself. I've experienced a lot of loss in my life recently, so I have also been thinking a lot about making the most of each moment and time with people (and dogs) that I love.
What I Wish I Knew in College (Sew My Soul): I would say a lot of these same things to myself. Maybe not my freshman self, but more like my Junior/Senior self. I know Kaitlin now, post college, and it hurts my heart when I think of all that she went through when she was younger, because she is like one of the most legit people that I know in real life and in blogging, but I am so happy to hear about how she's grown. She is a role model for me – and I'm older than her! (Shhhh).
DIY Citrus Scrub (Latte Everyday): Last Christmas, I made a ton of peppermint sugar scrub for people. My husband has really dry hands, but hates to use lotion. I was able to get him to use it because he says it leaves his hands non-greasy. I've been thinking about making him something more manly – and Citrus seems to be the answer. I love this recipe because I don't have to buy extra oils for scent!
French Press Latte Recipe (Seasons with the Strattons):  No secret, I love coffee. I also really love french pressses and Lattes. I use an automatic heater/frother at home, but I love Martha's idea to shake the milk a lot and then microwave. So, now when you see my recipes that use the heater/frother, you can use that technique!
Finally – An Update (Journey Mercies): I absolutely love reading about Whitney's time in Cambodia. I have always known that it is a sacrifice for Americans who go abroad to become missionaries, but it has been eye opening to read along. Plus, she always has such wonderful thoughts. I've been following along on Instagram with her 31 Days of American Culture Shock, which has been convicting for me. I know my life is full of excess, but it really hits hard when Whitney reflects on it. Seeing her 7 month old son's first experience with grass was also crazy! I take so much for granted.
So, Brian is pretty much the funniest guy that I know. I love talking to him. He might be a little quiet, but he's so silly and sweet. I thought that I would share a little interview that I did with him, since we're just about to celebrate our first anniversary!
What kind of questions should I ask you?
What? That's lazy.
Who is your favorite Shih Tzu?
Rylie.
You know that it is wrong to choose a favorite child, right?
His silence speaks volumes.
What is your favorite television show?
New Girl
What is your favorite thing about being married?
I get to do fun things with my best friend forever. I get to live with my best friend, so I don't have to call you over to hang out. And will be best friends forever and ever and no one can stop it.
Share your thoughts on Gone Girl. [Interviewer's note: Gone Girl is the first and only book that I've ever seen him read.]
I thought it was really good, and I think anyone who hasn't read the book should still see it because you don't need to read the book in order to really enjoy the movie.
What is your favorite thing about my blog? Do you like my blog?
I love your blog because you're so honest about all the stuff that you're going through, and you give people a voice about invisible illness that other people are too afraid to share.
What is your favorite thing to make with the KitchenAid mixer, that we don't need.
My favorite thing is probably the apple pie made last weekend.
[Interviewers note: Brian is the only one who uses the KitchenAid mixer. He is a better baker than me.]
Would you ever own a dog that is not a Shih Tzu?
I think the only dogs that should ever exist in the world should be Shih Tzus.
[Interviewer's note: It has been hypothesized that Brian is a Shih Tzu.]
Why don't you sound like you're from Mississippi?
I have missed flamingo day but I learn how to speak with a neutral accent.
What is your favorite thing to do when I go away for the weekend?
Probably do things around the house annoying you like doing laundry and playing on the computer.
Any other thoughts for my readers?
My wife is the best, and I love her so much – everyone should read her blog every day.
What is the best thing that I have taught you since we have been married?
Cleaning tips and dressing Tips. They helped me transition out of bachelorhood.
When I first started dating Brian, I realized that he didn't know how flamingos became pink. I wasn't sure if he wasn't paying attention in school or if he had a deficient education. His brother, who went to the same school, knew why flamingos were pink. Now whenever Brian doesn't know something, he says that they taught it on the same day that they taught about flamingos! We have so many inside jokes that I had to get rid of a lot of interview questions because the answers did not make sense without a very long side note from me.
I hope you enjoyed reading some silly questions and answers from the very best man in my life.
So, most of my organic search terms are either for my blog address or related to Cervical Dystonia. I thought that I would share a few of my favorites with some commentary.
jen hatmaker botox – 6 – Ok. The high number of hits on my blog for this term is hysterical. I blog about Botox for Cervical Dystonia a lot more than I blog about Jen Hatmaker. But apparently at least 6 people think that Jen Hatmaker gets Botox.
sephora rouge infusion – 3 – This is good stuff. Use it.
anberlin – 2 – This is an awesome band. You should listen.
dawson's creek – 2 – A very interesting show. I wish Netflix hadn't taken it off without warning!
best day ever mason jar tags for weddings – We had a Best Day Ever sign at our wedding. I recommend getting one.
buffy your cervix – Hello? What?
china glaze shocking punk – I am going to hope you were searching for the nail polish.
chopping off long hair – I regret chopping mine. I don't recommend it.
cutting off hair for summer – See above.
dawsons creek logo – Again, Netflix, you let me down.
dietbet transformer – I lost mine. But if I hadn't gotten really sick
friends or neighbors unsolicited medical advice – Oh yes. I hate when they do this. Tell them that you are already seeing a witch doctor, then watch their faces.
girls braces – Fun fact: I've never had braces. Well, on my teeth. I've had plenty on my wrists, ankles, knees, etc.
holcomb snapchat – Drew Holcomb & the Neighbors is an excellent band. Ellie Holcomb is a talented singer and songwriter. Snapchat is awesome. Unfortunately, I do not have access to their snapchats. Because you better believe I would totally abuse it if I did.
i just hate my self – I kind of want to reconsider my blog now.
ice pack with her sick – This is a rather vague search. Who is she? What's wrong? Is the ice pack for her?
if your hurt it pains me pic – I think you meant you're.
insta shih tzus – Oh yes. My instagram is pretty much flooded with Shih Tzu photos. They're the best type.
joey dawson car gif – Joey doesn't have a car.
lacedwithchrist instagram – An awesome blog. It is not mine.
my fitness pal before and after – It works!
myfitnesspal tight_fit – I am concerned about the second part of that search term.
passionfruit ads lack of customer service – Oh hell yes. If you are buying an ad, be prepared to lose the money.
september national dystonia month – Unfortunately the petition didn't work, but I think it raised a lot of awareness.
shih tzu hair cuts – I give mine at home haircuts. And it shows.
shower gift sarah – I'll take a gift.
sip it backyard makeover sweepstakes – Not sure what this one was about, but I would totally take a backyard makeover.
south carolina flag – It's a beautiful thing.
starbucks giveaway – Honestly, do people really like Starbucks, other than it's convenient because they're EVERYWHERE.
sugar cervical dystonia – Sugar is probably bad for you, but it tastes good.
who is sarah buffy married to james dawson – Buffy didn't get married, did she?
wine and cervical dystonia – Yes, please.
I am writing this series because it is what I wish I could have read when I was newly diagnosed. When I was diagnosed with a life-altering disease, you better believe that I google-d the heck out of it. There were a lot of things that I never found, so a few years into this journey, I am here to offer the little bit of knowledge that I found.
I have been very surprised at the number of newly diagnosed Cervical Dystonia patients who avoid Botox injections. Needles are scary, but I think that having your spine hardening into place is a lot more scary. Plus, Botox is injected locally, which is an advantage over oral medication.
When I attended the ST/Dystonia Symposium in Charleston, SC a few weeks ago, a doctor gave a presentation about the complications that can occur from leaving Cervical Dystonia untreated. Several people mentioned that it is believed that there are more people with undiagnosed Cervical Dystonia than all of the people who are diagnoes with every type of dystonia, combined. So, awareness is very important because untreated cervical dystonia leads to permanent spine damage.
From my personal experience, I had to wait almost 2 months in between the time I was diagnosed and my first Botox injections. This was due to insurance paperwork. Additionally, this does not take into account the onset of symptoms prior to my diagnosis. I have not been able to pinpoint my onset of symptoms exactly, due to other movement disorders from which I suffer. But the moral of my story is that while I was waiting for my Botox shots, I went to see a massage therapist and found out that my spine was already out of alignment. I had a myofascial pain release massage. (If you have ever had one of these, you know they are not for relaxation purposes). The massage therapist even took measurements of my range of motion to see how much I improved after the massage. You are a blessed person if you have never had to drive with Cervical Dystonia. Turning at the waist to check your blind spot is now a habit, but before I knew I actually had a disease, other than just loss of range of motion, it was necessary. When the massage therapist started, he mentioned that my spine was out of alignment. I have since had x-rays of my back, due to lower back pain, and my spine is not currently out of alignment. I can only attribute the one alignment to my untreated Cervical Dystonia.
One of the presenters at the conference I went to showed a photograph of a woman who had not been treated for her Dystonia in time. In the photograph, her neck was completely twisted and pulled backwards. The doctor explained that anesthesia should cause even dystonic muscles to relax. In the second picture, the same woman was under anesthesia. Her neck was in the exact same position, because even though her muscles were relaxed, her spine had hardened into that uncomfortable/horribly painful position.
The presenter went on to say that untreated Cervical Dystonia can lead to a hardened  spine. The only way to correct a hardened spine like the one he showed us a photograph of would be with extensive surgery to the spine, which would require pins. I am fairly certain that most people would rather prevent something like that from happening. Furthermore, the presenter cautioned that osteoporosis can also make living with Cervical Dystonia much harder. I have since resolved to take as many preventative measures as possible against osteoporosis, since it runs in my family. I don't want any extra strain on my neck.
People who I have talked to who are avoiding Botox shots, usually are doing so due to a fear of needles. I've never been a fan of needles, but seven years of allergy shots helped me prepare, I suppose. Botox injections are painful. I won't lie about that. They burn about 20 minutes after they are injected. And depending upon the skill of your doctor, the amount of post injection pain can vary. But I am here to tell you that a few days of pain is worth getting your life back. I am crying as I dictate this post (read here about how I blog with Cervical Dystonia and a hand tremor), because I would beg everyone to at least try. You don't deserve to live in pain.
Botox is not perfect. It will not take care of all of your problems. It takes a week or two to start working and can wear off before you are allowed to get your next set of shots. It can take your neurologist many tries to get the right shot pattern. It can take many tries to find the exact right amount of Botox that you need. But I am imploring you to stick with it. You will need complementary therapies to help you deal with the pain during those weeks when the shots are wearing off; however, those precious few weeks that your neck is not twisting or pulling can make you feel like yourself again. I know what it is like to feel like your life has been unalterably changed by your diagnosis and your pain. So, a few weeks of relief can let you have a wedding and enjoy it. You can visit with your family, without being distracted by your neck. You can make memories again! You will be able to enjoy some parts of your former life. Not every activity will still be possible, but if you have suffered like I have, just getting one or two things back can transform your life. It can make your life worth living. Everyone's life is worth living, but when you are in the depths of unbearable pain it can feel like your's is not.
Those few weeks can give you back a small semblance of your former life. Pain has change my personality. My husband did not know me before I was diagnosed, but I guess he likes my newer personality well enough. However, he really gets the best of me and my real (aka awesome haha) personality during the weeks that my Botox is working. Some college friends and old acquaintances who I only see sporadically, may never even know that anything is wrong, if they happen to see me on a good week.
Give Botox a chance to work for you. I could not find any statistics on how many patients respond, but since it is a first-line treatment for Cervical Dystonia, it must work fairly well. Some people will build up an immunity, but there is a new drug that will be available within a few years, which does not have any proteins for your body to build antibodies against. If Botox is not working for you, the problem is most likely your neurologist, not the Botox. I travel an hour and a half to see the best neurologist at a movement disorders clinic that I could find. And most doctors who are movement disorder specialist are trained in Parkinson's disease. So, if they tell you that they see a lot of Cervical Dystonia patients, ask how many is a lot. I have spoken with people who travel five hours or more to get to the best doctor. The technique of your doctor will determine the effectiveness of the Botox. Just because someone puts it in your neck does not mean they are putting it in correctly. Find a local support group or a national cervical dystonia foundation and look at their doctor list. Join an online support group and ask people in your area which doctors they go to. When you find the right doctor, don't let go. My first doctor was an excellent shot giver. However the second doctor that I saw, once I moved, did not have great technique. So, I suffered for 12 weeks because the shots were completely ineffective. I was fortunate to get a third doctor who was able to give me effective shots. While I would love to stay close to home to get my shots, I am unwilling to let some one mess up 12 weeks of my life with ineffective shots.
I was not able to find much research on the Internet to back up this post, like I wanted to. So I hope that my story will inspire you to take a chance and get the shots. Even if you hate needles, you should talk to your doctor about taking a medicine to help relax you before the shots. I will be posting soon about how to deal with post injection pain because getting through those few days after the shots can be challenging. I am always trying something new or perfecting existing techniques to manage my pain, so I can resume a sort of normal life.
Please email me if you have any questions about my journey through Botox injections. I would love to talk to you about your decision to get Botox or not to get Botox. Also I would love to hear what you do to deal with the pain of getting the shots!
Other Diagnosis Dystonia Series Posts:
Why You Should Join a Support Group
Other Cervical Dystonia Posts:
Shot Day: A Look at What Getting Botox Shots is Like
9 Ways to Ease Your Cervical Dystonia Pain
Hi there,
You may have just met me. You might be my good friend. You might even be my family member. I just wanted to take a moment to talk to you about the phrase "You don't look sick." You know what, you've never seen me at home alone. So, yeah, I don't look sick right at this second. To borrow a phrase from the ever wonderful writer Ariane, my pants should not have to match my pain level. Sometimes, putting on a dress helps my mood, even if it doesn't help my pain.
I don't mean to sound ungrateful for what you mean as a compliment, but it is kind of insulting. The phrase you don't look sick minimizes and dismisses my pain. So, if we just met, and I opened up to you about my painful neurological condition (and I didn't even mention the other conditions with which I live), please don't think you're complimenting me. If you follow it up with "you're so beautiful," are you implying that beauty protects people from getting sick? Or that being sick should make me ugly? Perhaps I shouldn't take any pride in my appearance if I am sick? I don't know, but you should probably stay away from that phrase.
If you are another person with Dystonia, I feel really bad for you. We share a common bond, which I thought you would appreciate. But when you tell me that I don't look like I have Dystonia, just because Botox helps me to hold my head straight for 8 out of every 12 weeks, you are insulting me, too. I am sorry if Botox doesn't help you hold your head straight, but I experience life altering pain, just like you.
I also want to take a minute to address a few more problems with the phrase you don't look sick. You may know about my illness from my blog or from me telling you about it. Either way, neither on my blog or in conversation, do I lay out my entire medical history. I don't tell you about the hours and money that have gone into biofeedback and neurofeedback. The tests that I've had run. How many doctor visits that I average a week. How many pills that I've tried and had horrible side effects or allergic reactions. When the doctors don't know what to do with you–yes,  I have been turned away by primary care doctors because I'm too complicated–they either throw a lot of pills at me or they take their frustrations out on me by yelling at me. It may sound crazy to you, but you probably only see the doctor when you have a sinus infection. So, in addition to dealing with pain and being sick, I deal with more frustrations than you could ever imagine. When I first got sick and didn't understand why the doctors were yelling at me, it felt like I was slowly losing my sanity. That makes me feel even worse. So maybe I brush my hair and try to look ok when I leave the house, but I carry so much pain behind the facade.
So, I if you're a close friend or family member, I appreciate it when you tell me that my voice sounds strong or notice an improvement. But, if I don't know you or you don't think I look sick, you aren't complimenting me.
Thanks,
Sarah